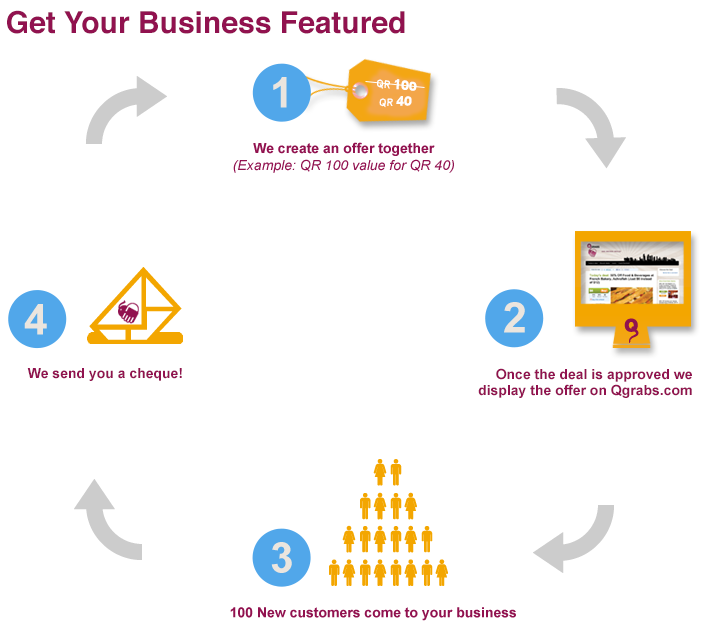 The idea is simple:
You provide us with an awesome deal
We upload and promote your deal to thousands of people using social media channels… leave the details to us!
If they like your deal they buy it!
If they really like your deal, they will tell their friends to buy.
Some will be after a bargain, but if you make their experience worthwhile then you got yourself a loyal client!
Attractive deals that lure in hundreds of new customers
Every day we find great products/activities/services available in Doha. We market an offer in a way that is seriously cool to our members and visitors and post the deal on our website.
We email members and inform our followers with the deal and businesses generate hundreds of new customers.
We have a high degree of in-house expertise to not only advise on a deal that members will adore, but to also create the promotional tone and the images that best sell it.
Once produced; your brand, your company, your deal goes viral to thousands of members through our social media networks.

Expand your reach. Quick.
Qgrabs is a new way to welcome thousands of new customers. Traditional advertising campaigns consist of you shelling out thousands of riyals to get creative material produced and thousands more on media charges. You risk spending lots of riyals with no Guarantee of new business.

Commission Based!
We make our money by taking commission on sales we generate for you (You win, we win!). It's accountable, cost-effective and generates hundreds of customers quickly, efficiently and in a way that WOW's the crowd!

Generate buZZzzz…
Our members are sophisticated urbanites who are traditionally hard to reach but who use their social networks to talk about products and services they love. Let your business be the talk of town!
For more info, please
contact us
and we will be more than happy to sit with you and go over the details.