Experience your city...
DOHA
Refer Friends, get 30 QR
69 QR
No longer
available
Full Price

150 QR
Discount

54%
You Save

81 QR
The deal ended at:
12:01AM
18/01/13
445 bought
The deal is on!
Tipped at 08:54 with 50 bought
The Fine Print
By Appointment Only

Subject to appointment availability

24hr cancellation notice required

No shows consider voucher as used

Voucher valid from Jan 18 – March 18, 2013

Voucher valid for ladies and gentlemen!

Take voucher with you to your appointment
Voucher valid in all branches:

The Centre, Al Muntazah – contact for booking: 4436 6275

Lulu Hypermarket, Al Gharafa – contact for booking: 4478 0510

Al Khor Mall, Al Khor – contact for booking: 4472 1277

Voucher only valid in location purchased

Please see the terms for all deals here
Highlights
Experienced Chiropodist

High quality products and equipment

Choose from 3 easily accessible locations

NEW LOCATION!
NOW OPEN IN AL KHOR!
Voucher only valid in location selected
Click BUY then select your preferred location
To embed this deal, copy the code below and paste it on your website:
The Company
Foot Care Centre
website
The Center, Al Muntazah
Doha
T: 4436 6275
View larger map
Lulu Hypermarket, Al Gharafa
Doha
T: 4478 0510
View larger map
Al Khor Mall
Al Khor
T: 4472 1277
View larger map
Tender, loving care for your tootsies!
It's time for a deal that includes the guys! After all, we all have feet, right? Our feet carry our bodies from place to place, walk thousands of miles every year, (ok, maybe just hundreds? Who can say…) and suffer a huge amount of wear and tear. Hammer toes, bunions, heel pain, foot pain, flat foot, dry skin and cracked heels are just a few of the ailments people experience on a daily basis, especially in the dry heat of Qatar, so what better way to kick start a healthy foot care regimen than with a Scholl Pedicure at the Foot Care Centre…
For QR69, you'll save 54% on this tootsie tickling deal – ffffootastic!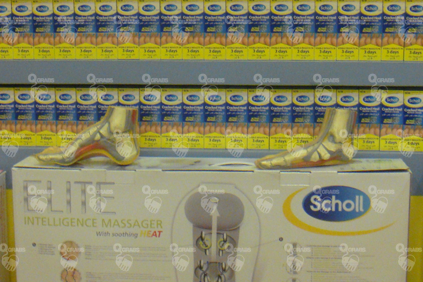 About the Foot Care Centre
Established in 2002, the Foot Care Centre is an in-house brand of Ebn Sina Medical. The Centre holds the exclusive franchise for the internationally-renowned Scholl range of foot care products and offers a wide range of specialty foot care services, including:
• Biomechanical foot assessment and treatment
• Specialty orthopedic shoe fitting and shoe modification
• Education and advice on proper footwear and foot care
• Flat feet inspection
• Pedicure, Massage and Manicure
Today, The Centre has grown to be recognized as a leading provider of foot care solutions in the GCC region thanks to its team of highly experienced chiropodists and its unique product and service portfolio.
The Foot Care centre's current infrastructure includes a showroom for footwear, foot care, foot accessories and hi-tech foot analysis as well as chiropody service rooms for professional manicure & pedicure, foot massage and other forms of treatments.