Full Price

250 QR
Discount

60%
You Save

151 QR
The deal ended at:
18/06/14
12:01AM
Fine print
Valid from 8 June – 30 Sept. 2014

Voucher valid in all branches

Ramadan times:
The Center: Sat – Thu: 10am – 1pm / 8pm – 12am, Fri: 8pm – 12am
Lulu Gharafa: Sat – Thu: 9am – 3pm / 7pm – 1am, Fri: 7pm – 1am
Al Khor Mall: Sat – Thu: 10am – 4pm / 7pm – 1am, Fri: 7pm – 1am

By appointment only – subject to availability

The Centre, Al Muntazah
Contact for booking: 4436 6275

Lulu Hypermarket, Al Gharrafa
Contact for booking: 4478 0510

Al Khor Mall, Al Khor
Contact for booking: 4472 1277

This is a foot care deal – Nail Polish not included

Merchant cancellation/re-scheduling policy of 24hrs applies

No shows consider vouchers used

Not valid with other offers

No cash value/No cash back/No refunds

Present printed voucher on arrival

Men and Ladies deal

Please see the terms for all deals here
Highlights





Foot Bath, Manicure & Pedicure
Pay QR99 instead of QR250


Experienced Chiropodist

High quality products and equipment

Choose from 3 easily accessible locations

Look After Your Tootsies!
We stand on them every day. We walk on them every day. We put our weight on them every single day. They get hard skin on them because of all the hard work they do. They go through terrible stresses like you wouldn't believe and do we treat them to any kind of relaxation? Well, maybe some of us do, but also, some of us don't. Now is the time to turn your plates of meat (rhyming slang peoples) into something better looking than what is on the ends of your ankles right now – dip them into a foot bath, and have them treated with a pedicure. While you're at it, you may as well take advantage of that manicure too – why leave your hands out of the party?!
Fresh feet for 60% off!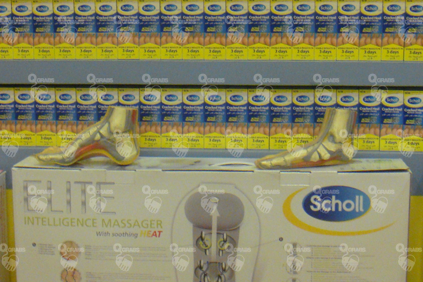 Established in 2002, the Foot Care Centre is an in-house brand of Ebn Sina Medical. The Centre holds the exclusive franchise for the internationally-renowned Scholl range of foot care products and offers a wide range of specialty foot care services, including:
• Education and advice on proper footwear and foot care
• Flat feet inspection
• Pedicure, Massage and Manicure
Today, The Centre has grown to be recognized as a leading provider of foot care solutions in the GCC region thanks to its team of highly experienced chiropodists and its unique product and service portfolio.
The Foot Care Centre's current infrastructure includes a showroom for footwear, foot care, foot accessories and hi-tech foot analysis as well as chiropody service rooms for professional manicure & pedicure, foot massage and other forms of treatments.