Full Price

68 QR
Discount

85%
You Save

58 QR
The deal ended at:
17/06/19
11:59PM
Fine Print
Purchased items may be collected from our office or delivered
Items must be collected/received the latest by 4 July 2019
Items not collected/received by 4 July 2019 will be forfeited and no refund will be given
Your product is available for immediate collection – please see below for details
No cash value/No cash back/No refunds
Inspect product immediately; 7-day defect return from date product is received, provided item returned unused and in original packaging with receipt
How it Works:

After you purchase the deal you may choose to pick up your purchase from our office or have it delivered to your door. See below for details.
Pick-up:

Your product is available for immediate collection! You will need to come along to the Qgrabs.com office during our working hours of Sun – Thu: 9am - 5pm & Sat: 10am - 2pm.
Office location: http://map.Qgrabs.com
Delivery:

We will contact you once your order is packed & ready for delivery

NOTE: Delivery service within Doha City limits only; any territory beyond the city limits will fall outside the delivery parameter

Please see the terms for all deals here
Up to 85% off a variety of stuff for

YOU

!
Options 1 & 2: One Removable Hanging Car Backseat Organizer – Blue / Black
Pay QR10 instead of QR68
Multi-purpose six pocket – organize emergency equipment, sports gear, auto supplies and more
Lightweight and rolls away for easy storage
Fits all headrests – elastic snap-on straps adjust to fit even stationary headrests
Plenty of room to store gadgets, cell phones, drinks, water bottles, umbrellas, books, pens, and so much more
Material: Polyester, Mesh, Sturdy Buckles & Non-Elastic Straps
Includes: x2 Small Pouch – 10cm, x2 Medium Pouch – 14cm, x2 Large Pouch – 28cm
Size: Approx. 104cm x 33cm
Option 3: One Adhesive Hook – Random Color
Pay QR10 instead of QR55
Installing this hook on the bottom of cabinets saves space and makes your kitchen look tidy and clean
Adhesive tapes on the back are fitted for convenient sticking on various surfaces
You can either remove the tape on the backside of the hook and stick on to a clean surface or drill holes and insert screws to keep it in place
Comes in 3 random colors: Green / Pink / Grey
Material: Plastic
Size: Approx. 20.2cm x 4.9cm
Option 4: One Pair of Compression Calf Sleeves – Green
Pay QR10 instead of QR50
Elastic sleeves for your calves to allow for graduated compression, increased blood circulation and recovery
360-degree seamless design made out of a nylon knitted material to let the skin breathe and wick away moisture
One size fits most with stretchy fabric and a slimming calf effect
Material: Nylon
Total Length: 225mm – 250mm
Smaller Opening Width: 115mm – 125mm / Larger Opening Width: 135mm – 145mm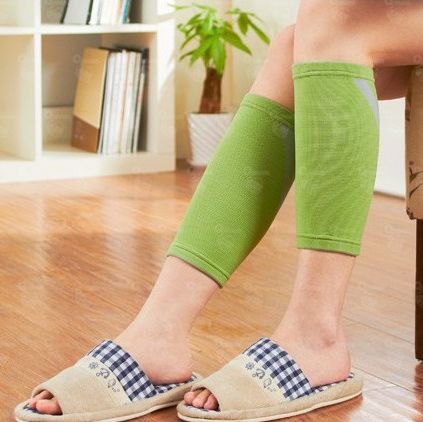 Option 5: One Set of 2 Anti-Slip Mobile Gel Pads
Pay QR15 instead of QR59
Perfect sticky surface to keep those mobiles in place
Set of 2 Non-magnetic sticky pads; comes in 2 shapes for more convenience
Clings to almost any smooth surface for easy use; reusable and can be easily cleaned with just water
Material: Silicone
Size (Design A): 15cm x 3cm x 0.4cm / Size (Design B): 13.7cm x 5.5cm x 0.4cm
Options 6 & 7: One Cute Dog Pencil Sharpener – Blue / White
Pay QR15 instead of QR53
Small size, lightweight, portable and easy to carry
Anti-slip handle design makes it easier for you to rotate the handle crank without slipping; specially designed to hold the pencil stably
Can be used as little ornaments on your desk as well
Material: Plastic
Size: Approx. 7cm x 10.5cm x 8.5cm
Option 8: One Silver Aluminum Phone Holder
Pay QR19 instead of QR73
Durable aluminum material available in two classic shades for a steady, firm and modern look
Includes an anti-slip, smooth surface with a soft silicone pad to keep your device in place safely
Works best with mobiles, small tablets and even mini iPads – can hold devices up to 1cm thickness
Dimension: Approx. 6.3cm x 8cm x 7.1cm
Options 9 & 10: One Memory Foam Bathroom Mat – Purple / Red
Pay QR19 instead of QR58
Keep your bedrooms, kitchen or bathrooms clean and dry with these non-slip memory foam mats
Absorbs water and dries quickly
Material: Plush (upside) and Foam (inside)
Size: 59cm x 39cm
Option 11: One White LOVE Night Light
Pay QR19 instead of QR45
Add this elegant night light & watch

LOVE

come to life, even in the dark
Each

LOVE

stand has 11 bright shining mini light bulbs which are placed in positions to enhance the word "Love."
Comes with a handy On/Off switch
Material: Plastic
Power: 2

AAA

Batteries (not included)
Dimension: 30cm x 10cm x 4.5cm
Options 12, 13, 14 & 15: One 3D LED Desktop Light
Pay QR25 instead of QR69
Warm up your place with these cute led lights!
Mushroom: 20cm x 17.3 cm
Bulb: 19.5cm x 15cm
Ironman: 20.5cm x 14.6cm
Spiderman: 20.5cm x 14.5cm
Base Stand: 12cm x 5.5cm x 5.9cm

USB

Power Cable included
Option 16: One BBQ Air Blower Fan
Pay QR25 instead of QR59
No more hassle

BBQ

days!
Durable and easy to operate; just press and release the button to allow the wind to blow
Material: PP+ Aluminium Alloy
Size: Approx. 20cm x 13cm x 5cm
Option 17: One Set of Mesh Laundry Bags – One of Each – Round & Square
Pay QR29 instead of QR91
Perfect for protecting underwear, shoes, scarves, hosiery, delicate blouses, sweaters and more while washing
The thickened foam ring and separation design prevent bag deformation
Made with durable and breathable fiber material so clothes can get clean without getting tanged
Includes zipper covers for extra protection!
Material: Polyester
Round Shape: 40cm x 20cm / Square Shape: 26.5cm x 8cm x 29cm
Option 18: One Stainless Steel 5-in-1 BBQ Grilling Tool
Pay QR35 instead of QR145
Professional 5-in-1 multi

BBQ

tool that includes a spatula with a built-in bottle opener, fork, silicone brush, bottle opener and corkscrew
Made of high-quality stainless steel and silicone
Portable and easy to carry; comes with a case for safe storage
Allows the spatula to be detached from the main item and the whole product can be folded just like a pocket knife
Tips to detach this tool: unfold the spatula to unlock the handle, then slide up and pull out the spatula to separate the two halves
After use, just match two halves, slide down the spatula and close it to lock in place
Please note that the two halves must be used independently; you have to unlock the spatula to use it
Option 19: One DIY Coloring Pillowcase with Cushion – Random Color
Pay QR35 instead of QR144
Add a touch of graceful color to your bedroom , sofa, cars and chairs
Makes for a perfect accent piece to any indoor space
Pillow cover can be washed and will not fade
Materials: Non-woven fabric, x12 Fabric Paint, x2 Brush, x1 Palette
Options 20, 21 & 22: One Travel Hanging Toiletry Organizer
Pay QR35 instead of QR80
Can keep your toiletry essentials perfectly organized for traveling, outdoors activities, and more!
Comes with an built-in hook to hang the bag & use it more conveniently
Materials: Polyester
Size: Approx. 25cm x 20cm 10cm
Comes in 3 colors: Blue / Black / Maroon
Option 23: One Dictionary-Style Book Safe with Two Keys & Lock – Black
Pay QR35 instead of QR109
Hide some secrets & special things in plain sight with the art of deception
Small metal safe disguised as a dictionary to seamlessly blend into any bookshelf or collection
Perfect for protecting passports, cash, jewelry, etc. so you don't easily forget where you've stored them all
Two keys are included
Inner Material: Metal with Powder Coating / Outer Material: Paper Covering
Inner Storage Dimension: Approx. 23cm x 14cm x 4cm
Book Dimension: Approx. 24.5cm x 15.9cm x 5.6cm
Option 24: One LED Motion Sensor Light
Pay QR39 instead of QR99
Movement activated light switches itself on as you approach it within a 1m radius
Automatically switches off between 1-2mins after you leave the range
Has 10 bright

LED

mini bulbs that illuminate above the area it hangs over, just perfect, not too bright nor too dull
Perfect for both indoor and dry outdoor use with an easy peel & stick magnetic strip
No wiring necessary
Power: 4

AAA

Batteries (not included)
Dimension: 19cm x 1.4cm x 3cm
Option 25: One Hole Puncher
Pay QR39 instead of QR89
Can punch 6 kinds of holes: 2mm / 2.5mm / 3mm / 3.5mm / 4mm / 4.5mm
Suitable for perforating holes for a paper card, leather, paper punch or clock and watch belt
The clamp body is made of top quality carbon steel forging, strong and durable
Comes with a locking hook, convenient to put away for storage
Material: Carbon Steel +

PVC

Size: Approx. 21cm x 13cm x 2cm
Option 26: One Reversible Couch Cover
Pay QR45 instead of QR91
Keep spills, stains & fur away from your couch
Fits perfectly on any couch or sofa up to 92in in length
Has two armrest covers as well to ensure protection to the arms of your couch too
Option 27: One Canvas Travel Duffle Bag – Brown
Pay QR65 instead of QR182
Carry your favorite things around in a smart looking and convenient duffle bag while touring dream destinations!
Could also be used for the gym or on camping trips and more!
Features an adjustable shoulder strap
Material: Cotton Canvas & PU Leather
Size: 43cm x

22cm x 35cm
Option 28: One Rechargeable & Portable LED Outdoor Light
Pay QR65 instead of QR160
30W super bright

LED

work lights, uses 20-super bright LEDs to illuminate your area
Replaceable battery case, requires 3 × 18650 rechargeable batteries, acts as a quick change battery for continuous light
Comes with 2 purple and 2 red flashing LEDs and is the best gear in a roadside emergency
Takes 3-5hrs for one full charge which runs for up to 6hrs
Highly portable and light-weight making it easy to carry or place onto the ground with the stand or works for hanging while camping, fishing, and other outdoor activities; not suitable for diving
120-degree rotating angle for better visibility
Option 29: One Aroma Diffuser – Light Brown
Pay QR119 instead of QR219
Diffusers for essential oils can help with stress, anxiety, relaxation, sleep, headaches, blocked sinuses, allergies and more!
Set the mood and lighting with your choice of 7 colors; set to carousel mode to experience a flowing rainbow of colors, or turn off all lights for total darkness
Provides you with a relaxing scent for over 13hrs!
Small enough to fit anywhere you choose: home, office desk, bedroom nightstand, baby's room, bathroom, and yoga studios
Select from 1hr, 3hrs, 6hrs or continuous timer options; unit is equipped with a safety auto-shut off when the low water level is detected
Includes user's manual, adapter, remote and a measuring cup
Material:

ABS

Plastic
Size: Approx: 21.5cm x 17cm (diameter)
Power: Input/Output: AC100-240v 50-60hz / DC 24V 600M A
Length of Cord: Approx 170cm
Electric Consumption: Approx 13w
Tank Capacity: 300ML

LED

Light: 6pcs
Method of Mist Production: 2.4MHZ