Full Price

59 QR
Discount

41%
You Save

24 QR
The deal ended at:
11/05/19
11:59PM
Fine Print
Purchased items may be collected from our office or delivered
Items must be collected/received latest by 15 May 2019
Items not collected/received by 15 May 2019 will be forfeited and no refund will be given.
Your product is available for immediate collection – please see below for details
No cash value/No cash back/No refunds
Inspect product immediately; 7-day defect return from date product is received, provided item returned unused and in original packaging with receipt
How it Works:

After you purchase the deal you may choose to pick up your purchase from our office, or have it delivered to your door. See below for details.
Pick-up:

Your product is available for immediate collection! You will need to come along to the Qgrabs.com office during our Ramadan timings: Sun – Thu: 9am – 4pm & Sat: 10am – 2pm

Office location: http://map.Qgrabs.com
Delivery:

We will contact you once your order is packed & ready for delivery

NOTE: Delivery service within Doha City limits Only. Any territory beyond the city limits will fall outside the delivery parameter

Please see the terms for all deals here
Highlights

One Insulated Lunch Bag
Pay QR35 instead of QR59

Two Insulated Lunch Bags
Pay QR55 instead of QR118

Two Insulated Lunch Bags - One of Each Size
Pay QR55 instead of QR118
Keeps your meal warm until lunchtime with special thermal insulation material
Has a compartment for your lunch box & also a pocket to hold napkins
The exterior of the lunch bag is constructed out of durable and water-resistant oxford fabric with reinforced seams to keep the stored foods dry & clean
Specifications:
Color: Grey
Material: Nylon & Thermal Insulation Material
Size (Medium): Approx. 23cm x 15.5cm x 19cm
Size (Large): Approx. 24cm x 14.5cm x 21cm
Keep your lunch warm with up to 53% off!
Medium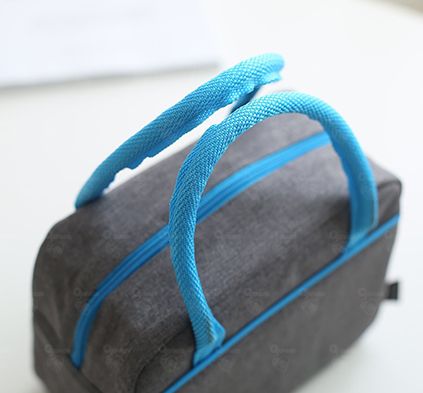 Large